Sprinkler  Sprays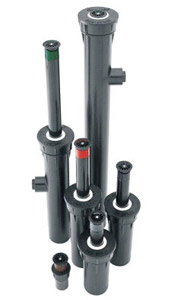 Sierra Irrigation offers Hunter and Rain Bird sprinkler sprays for residential and commercial use. These top-notch manufactures are committed to producing premium products for your irrigation requirements.
These particular sprinklers offered by Sierra Irrigation are produced to ensure durability and high-performance that will provide an extended life-time for your sprinkler heads. These devices are and excellent at producing sprays of various widths without rotating. All sprinkler components are removable from the top without special tools which provides quick and easy flushing and maintenance of the sprinkler. Other features include stainless steel springs that provide reliable stem retraction.
These peoducts are all fast and easy to set up, they are designed to fit any budget!