PVC & Poly Fittings (Funny Pipe)

PVC is a vinyl polymer that is designed to weather water and dirt and not deteriorate and rust like metal. A PVC fitting is a type of irrigation fittings used to attach polyethylene driplines and pipes with control valves snugly and securely. At Sierra Irrigation, we supply tube fittings, plastic pipe fittings, and valve fittings for your drip irrigation or sprinkler system. We carry the following PVC fitting products:
• Adapters
• Bushings
• Caps & Plugs
• Couplings
• Elbows
• Slip Ball Valves
• Tees
Poly Fittings (Funny Pipe) are quick fittings to adapt to polythylene irrigation tubes. There are couplings, elbows, connectors and other adapters for Poly usage. These are usually used for quick repairs and drip systems.
When purchasing fittings for your drip irrigation or sprinkler irrigation system, be sure they are the right size. Using irrigation fittings made for a different size tube will often result in the tube blowing out of the fitting! Our professionals at Sierra Irrigation will advise you on the best size fittings to connect your tubes, PVC pipes, plastic pipes, and control valves.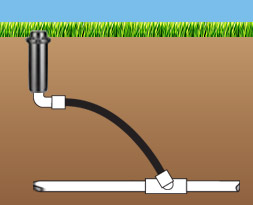 Instead of being glued, funny pipe is attached on barbed fittings and, depending on the job at hand, may be clamped into place. It is mainly used to connect a sprinkler head to a lateral line, usually PVC, through a swing joint. A swing joint is made with ~one foot of PE pipe with barbed spiral fittings at the end, so it can thread into a threaded PVC fitting and a sprinkler head.
The swing joint, being flexible, can prevent pipe and a sprinkler head from breaking under various conditions; for example, mowing a lawn. A sprinkler head attached to a hard riser might break. The pipe may also become damaged.