FX Luminaire PB LED Up Light
$145.92 – $199.52
Customized Products may take 2 – 4 weeks for delivery.
Description
FX Luminaire PB LED Up Light, A Compact LED Wall Wash Lighting Solution
The FX Luminaire PB LED Up Light is available in one or three LED with full color lens options off frosted, blue, amber, and green included. The wider angle of the PB allows a broader lighting option for larger structures and spaces. This Up Light is engineered with solid construction and small in size.
Utilizing accent lights in a landscape lighting system design can add texture, contrast, and interest. FX Luminaire provides highly efficient LED accent lights for virtually any outdoor application.
Please Allow 12-16 business days for shipping
No returns on lighting products
| | |
| --- | --- |
| • Die-cast aluminum or brass | • Natural brass and antique finishes |
| • Color temperature filters | • Phase and PWM dimmable |
| • Compatible with Luxor® technology | • ProAim™ adjustability |
| • Cree® Integrated LEDs | • Two-layer marine-grade anodization and powder coat finish |
| • Input voltage: 10-15V | |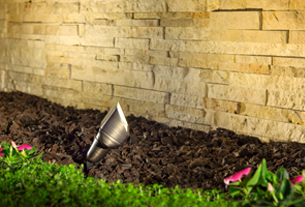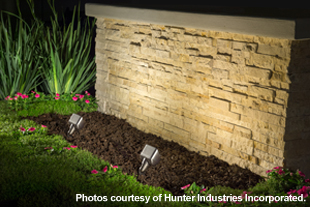 Additional information
| | |
| --- | --- |
| Weight | 2.01 lbs |
| Zoning & Dimming Option | |
| Lamp | |
| Metal Finish Options | AB-Antique Bronze, AT-Antique Tumbled, NB-Natural Brass, None, NP-Nickel Plate |
| Finish Options | AL-Almond, BZ-Bronze Metallic, DG-Desert Granite, FB-Flat Black, FW-Flat White, None, SB-Sedona Brown, WG-White Gloss, WI-Weathered Iron |
PB Details
  Metal Finish Options

AB
Antique Bronze*
on brass

AT
Antique Tumbled*
on brass

NP
Nickel Plate*

BS
Natural Brass
  Powder Coat Finish Options
WG
White Gloss
FW
Flat White
AL
Almond
BZ
Bronze Metallic
DG
Desert Granite
WI
Weathered Iron
SB
Sedona Brown
FB
Flat Black
  PB: Includes fixture, specified LED board, super slot spike, and filters.

| | |
| --- | --- |
| | |
| PB | SSS |

Included Filters

Amber

Green

Blue
  PB Ordering Information
    Factory Installed Options: Order 1 + 2 (optional) + 3 + 4
Step
Description
  Code  
1
Fixture Code
  PB
2
Optional ZD
 ZD (zoning and dimming capability using ZD Technology™ with the Luxor controller)
3
Lamp
  • 1LED (50,000 avg. life hours)
• 3LED (50,000 avg. life hours)
5
Finish
  WG, FW, AL, BZ, DG, WI, SB, FB
  Example: PB-ZD-3LED-NP = PB – ZD Option – 3LED Board – Nickel Plate Finish
PB Spec Chart
  PB Spec Chart
  Number of LEDs
  1
  3
  Halogen Lumen
  10 Watt
  20 Watt
  Output Equivalent
( Useful LED Life (L70)

  50,000 hrs. average
  50,000 hrs. average
  Input Voltage
  10 to 15 V
  10 to 15 V
  VA Total (use this number
to size the transformer)
  2.4
  4.5
  Watts Used
  2
  4.2
  Lumens per Watt (Efficacy)
  34
  37
  Max Lumens
  71
  151
  CRI (Ra)
  67.3
  67
PB Dimensions
  PB Dimensions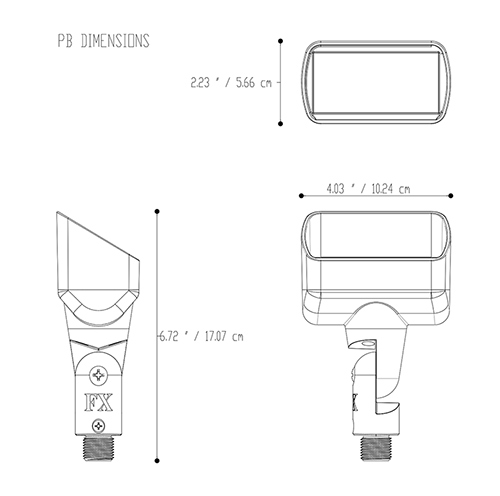 PB Photometrics
  PB Photometrics