FX Luminaire LC LED Up Light
$181.65 – $244.19
Customized Products may take 2 – 4 weeks for delivery.
Description
FX Luminaire LC LED Up Light, FX Luminaire's Largest Wall-Wash Up Light
The FX Luminaire LC LED Up Light projects a broad spectrum of light on large walls and spaces. It is available in 1, 3, 6 and 9 LED, and is available in an array of finishes to suit the needs of any design that calls for a large-span wall washing up light. The LC includes your choice LED boards, choice of finish, 4 ft. lead wire and a Long Slot Spike. All LC up lights come standard with amber, green, blue and frosted filter.
Utilizing accent lights in a landscape lighting system design can add texture, contrast, and interest. FX Luminaire provides highly efficient LED accent lights for virtually any outdoor application.
Please Allow 12-16 business days for shipping
No returns on lighting products
| | |
| --- | --- |
| • Color temperature filters | • Natural brass or antique finishes |
| • Compatible with Luxor® technology | • Phase and PWM dimmable |
| • Cree® Integrated LEDs | • ProAim™ adjustability |
| • Die-cast aluminum or brass | • Two-layer marine-grade anodization and powder coat finish |
| • Input voltage: 10-15V | |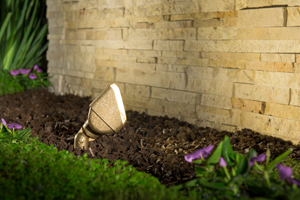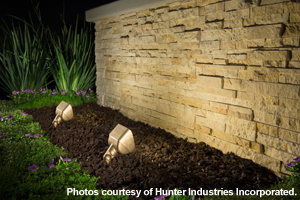 Additional information
| | |
| --- | --- |
| Weight | 1.995 lbs |
| Zoning & Dimming Option | |
| Lamp | |
| Finish Options | AB-Antique Bronze, AT-Antique Tumbled, BS-Brass, BZ-Bronze Metallic, DG-Desert Granite, FB-Flat Black, FW-Flat White, No Faceplate, NP-Nickel Plate, SB-Sedona Brown, WG-White Gloss, WI-Weathered Iron |
LC Details
  Metal Finish Options

AB
Antique Bronze*
on brass

AT
Antique Tumbled*
on brass

NP
Nickel Plate*

BS
Natural Brass
  Powder Coat Finish Options
WG
White Gloss
FW
Flat White
AL
Almond
BZ
Bronze Metallic
DG
Desert Granite
WI
Weathered Iron
SB
Sedona Brown
FB
Flat Black
  LC: Includes fixture,specified LED board, spike, and filters.

| | |
| --- | --- |
| | |
| LC | LSS |

Included Filters

Amber

Green

Blue
  LC Ordering Information
    Factory Installed Options: Order 1 + 2 (optional) + 3 + 4
Step
Description
  Code  
1
Fixture Code
  FB
2
Optional ZD
 ZD (zoning and dimming capability using ZD Technology™ with the Luxor controller)
3
Lamp
  • 1LED (50,000 avg. life hours)
• 3LED (50,000 avg. life hours)
5
Finish
  WG, FW, AL, BZ, DG, WI, VF, SB, FB
  Example: FB-ZD-3LED-WI = FB – ZD Option – 3LED Board – Weathered Iron Finish

* May require longer lead time

  LC Spec Chart
  Number of LEDs
  1
  3
  Halogen Lumen
  10 Watt
  20 Watt
  Output Equivalent
( Useful LED Life (L70)
  50,000 hrs avg
  50,000 hrs avg
  Input Voltage
  10 to 15 V
  10 to 15 V
  VA Total (use this number
to size the transformer)
  2.4
  4.5
  Watts Used
  2
  4.2
  Lumens per Watt (Efficacy)
  31.1
  40.2
  Max Lumens
  60
  155
  CRI (Ra)
  78.6
  78.4
LC Dimensions & Photometrics
| | | |
| --- | --- | --- |
|   LC Dimensions | |   LC Photometrics |