FX Luminaire CP LED Wall Light
$118.52 – $142.35
Customized products may take 2 – 4 weeks for delivery.
Additional colors are offered as special order.
Description
FX Luminaire CP LED Wall Light, Engineered to Bring Light to Walkways, Stairways, and Decks
The FX Luminaire CP LED Wall Light is helpful for lighting other areas with high foot traffic hazards that do not have an adjacent planter area for path lighting, or trees and trellises from which to down light. The CP is engineered to bring LED efficiency to walkways, stairways, and decks. In addition, the CP can safely illuminate difficult areas and tight spaces that cannot accommodate traditional path lights  or up lights.
Please Allow 12-16 business days for shipping
No returns on lighting products
Features
CP INCLUDED
CP: Includes fixture, 1LED board, filters, choice of faceplate finish, and mounting conduit

CP
Included Filter

Amber
FINISH CHART
Metal Finish Options

AB

Antique Bronze*
(On Copper)

AT

Antique Tumbled*
(On Copper)

CU

Copper

NP

Nickel Plate*
* May require longer lead time
Powdercoat Finish Options

WG

White Gloss

FW

Flat White

AL

Almond

BZ

Bronze Metallic

DG

Desert Granite

WI

Weathered Iron

VF

Verde Speckle

SB

Sedona Brown

FB

Flat Black
CP ORDERING INFORMATION
FACTORY INSTALLED OPTIONS: Order 1 + 2 (optional) + 3 + 4
Step
Description
Code
1
FIXTURE CODE
CP
2
OPTIONAL ZD
ZD (zoning and dimming capability using ZD Technology™ with the Luxor controller)
3
LAMP
1LED (50,000 avg. life hours)
4
FINISH
AB*, AT*, CU, NP*, WG, FW, AL, BZ, DG, WI, VF, SB, FB
EXAMPLE: CP-ZD-1LED-DG = CP – ZD Option – 1LED Board – Desert Granite Finish
* May require longer lead time
Specifications
CP SPEC CHART
Number of LEDs
1
Halogen Lumen
Output Equivalent
10W
Useful LED Life (L70)
50,000 hrs avg
Input Voltage
10 to 15V
VA Total
(Use this number to
size the transformer)
2.4
Watts Used
2.0
Lumens per Watt
(Efficacy)
2.2
Max Lumens
4
CRI (Ra)
79.9
CP DIMENSIONS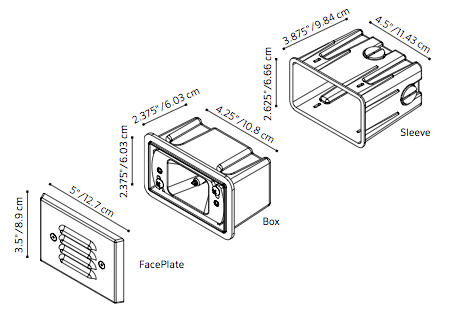 CP PHOTOMETRICS